MOYESH at Honey Festival in Jimma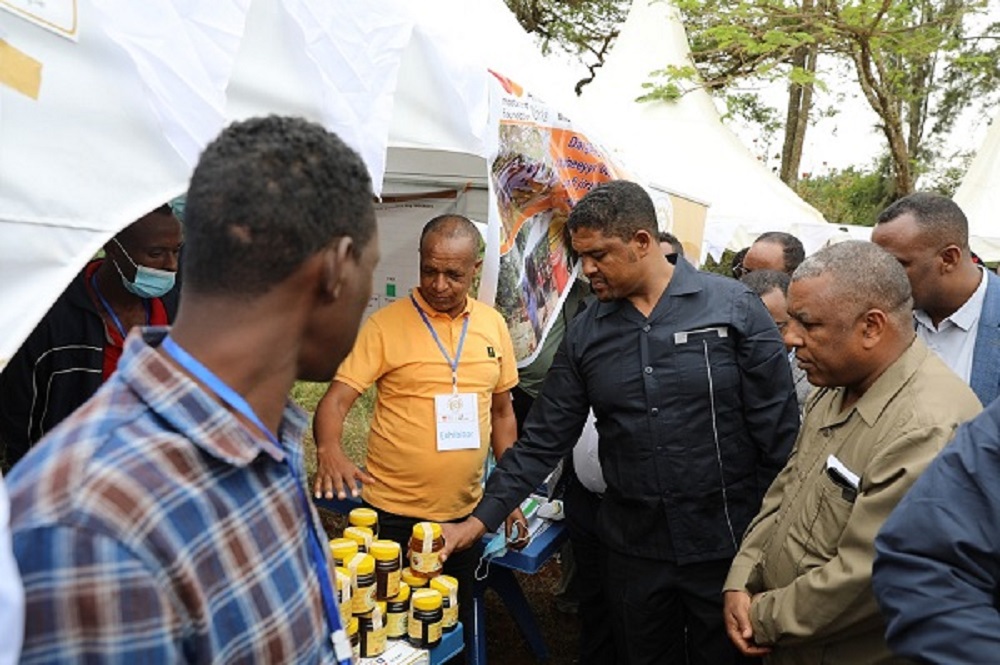 Through the MOYESH programme, icipe Ethiopia participated in the Apiculture Development Initiative Launching and Honey Festival hosted by Oromia National Regional State. The event brought together beekeepers, input suppliers, processors, policymakers, and research and development institutions to share their best practice and experiences on apiculture development in the region and across the country.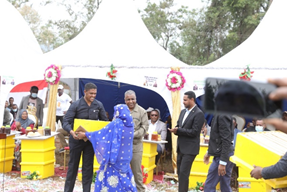 H.E Shimelis Abdisa, President of Oromia National Regional State officially launched the initiative and Honey Festival staged on 28 March 2021 at Jimma Agricultural Research Center. According to the president, the regional government pays special attention to job opportunities and rural development by designing about 15 initiatives. The apiculture development is among those key initiatives launched in Jimma known as "Jimma Declaration" to create job opportunities for millions of young men and women along the honey value chains and improve entrepreneurship.
H.E. Mr. Shimelis Abdisa, President of Oromia National Regional State, and Dr. Girma Amente, Vice President and Coordinator of the Rural Development sector, provided frame hives and certificate awards for champion beekeepers and districts. During the launching, the president called upon involving stakeholders in the apiculture value chain to join their hands to utilize the potential of apiculture in creating jobs, alleviating poverty, securing food security, and improving entrepreneurship in the region.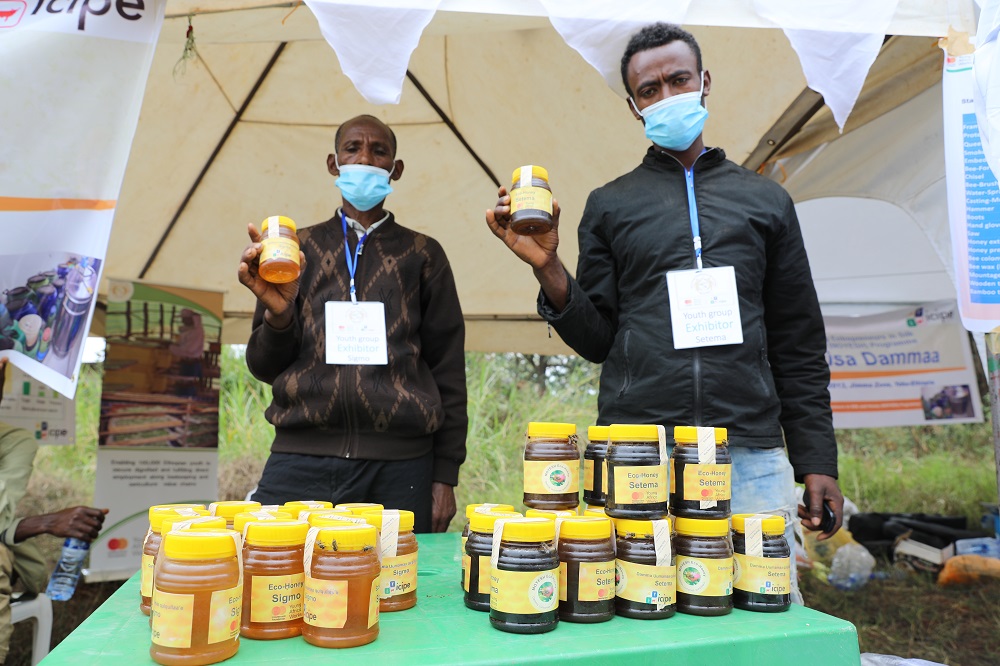 A huge number of exhibitors from over 40 Woredas (districts), beekeeping input suppliers, processors, and development actors operating across the region showcased their products, programmes and services. The exhibition was accompanied by Business-to-Business (B2B) discussions that allowed participants to network, exchange knowledge and experiences on how to enhance production and productivity, collaborate within the value chain and promote market linkages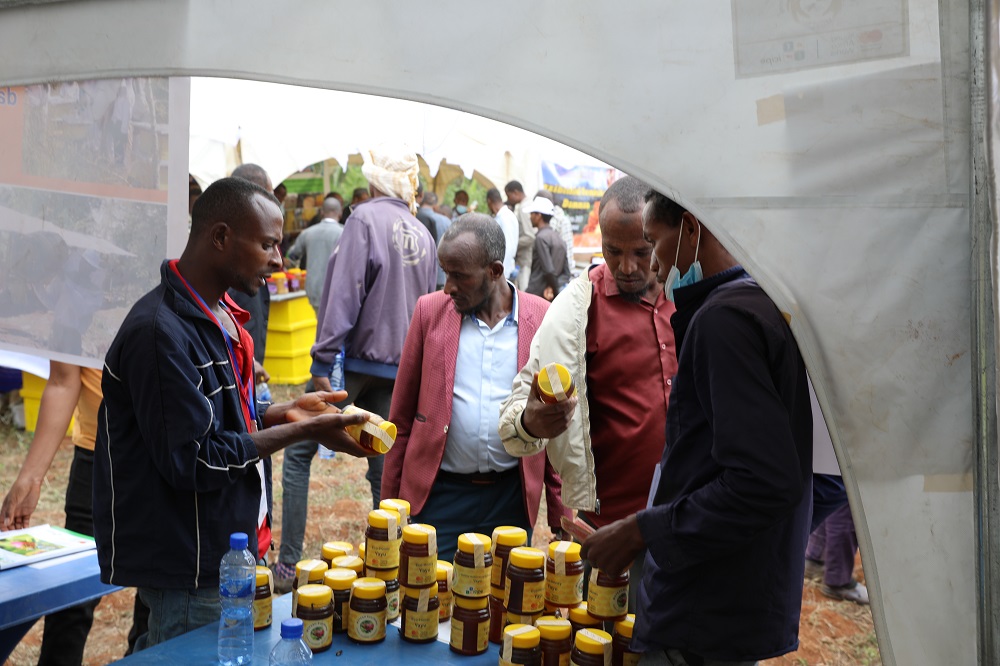 icipe's exhibition booth displayed the MOYESH programme activities through banners, posters, brochures, extension manuals and packed honey. Representatives from five model youth enterprises running apiculture business with the support of MOYESH programme from Illubabor and Jimma Zones of Oromia Region exhibited around 100kg table honey. The participants shared their fascinating stories on how the programme has been supporting them in the transformation of their livelihoods and the environment. In addition, protective cloth and frame hive producers trained by the MOYESH programme were also exhibited and transacted their products.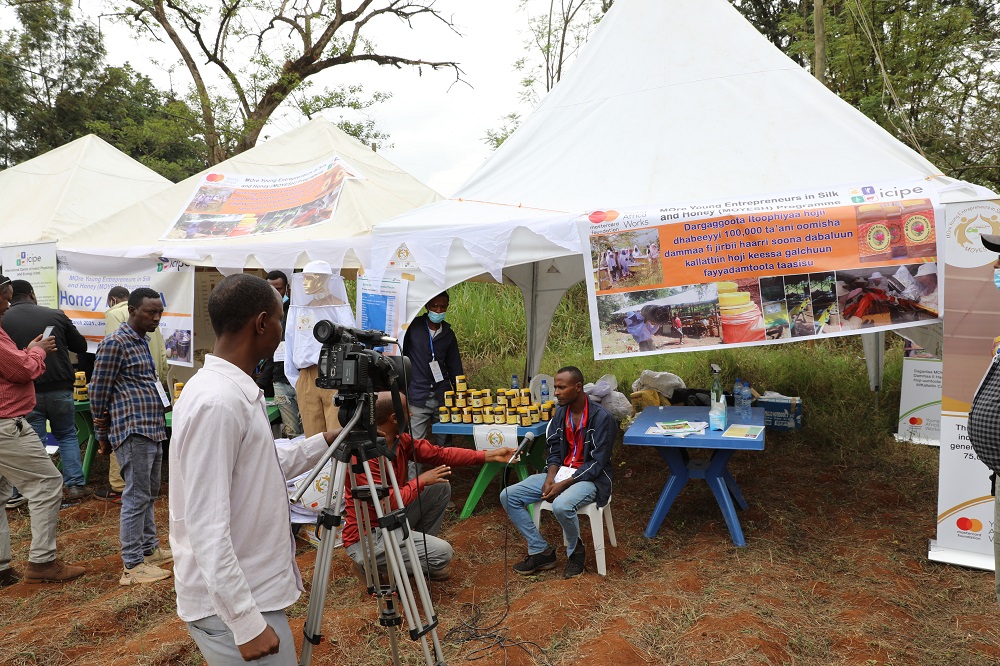 The event aired through National and regional media. These include Ethiopian Broadcasting Corporation (EBC), Fana Broadcasting Corporation (FBC), Walta TV, Oromia Broadcasting Network (OBN), all the FM and community radios across Jimma Zone aired the event. In general, the event offered a golden opportunity to raise awareness, share best practices and sensitize stakeholder on the contribution of MOYESH programme in creating jobs and ensuring food security in Oromia National regional state and across the country. In addition, the youth enterprises had the opportunity to promote their hive product (honey) and benefited from the market linkage created.