Mastercard Foundation, Ethiopia Head appealed to continue to demonstrate enormous advancements in creating decent jobs and income for Ethiopian youth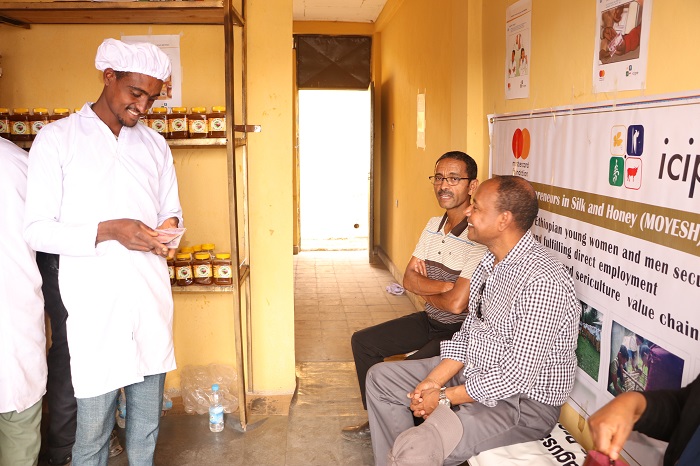 Chalachew Tuafu (front holding money) happily explained the income generated from sales of honey by youth owned Endeg Bee Products Processing, Development and Marketing Cooperative in Tilili town, Awi Zone. He interacts with Mr Samuel Yalew and Dr Workneh Ayalew (MOYESH Coordinator).  
On 3 April 2023, the Mastercard Foundation, Ethiopia-Country Head, Mr. Samuel Yalew expressed that beekeeping has piled extremely high potential in creating decent jobs and income for young people in Ethiopia. Speaking during his visit to the youth-owned apiculture development sites and integrated business hubs in the Awi Zone of the Amhara region, Mr Yalew said "The various activities and economic impact observed could inflict a blow of morale for the young men and women, which could also raise concerns amongst the partners to address the youth employment issue. The advancements noticed at a time when we seek to provide more support tailed to build the future Ethiopian young people." Mr Samuel met with government officials, and youth partners, and listened to their impressions and vision.  The head inspired the young entrepreneurs and commended the International Centre of Insect Physiology and Ecology (icipe) and its partners' efforts to accelerate job opportunities and income for young people. He strongly appealed to continue to demonstrate enormous strength and positive momentum so that young people can thrive.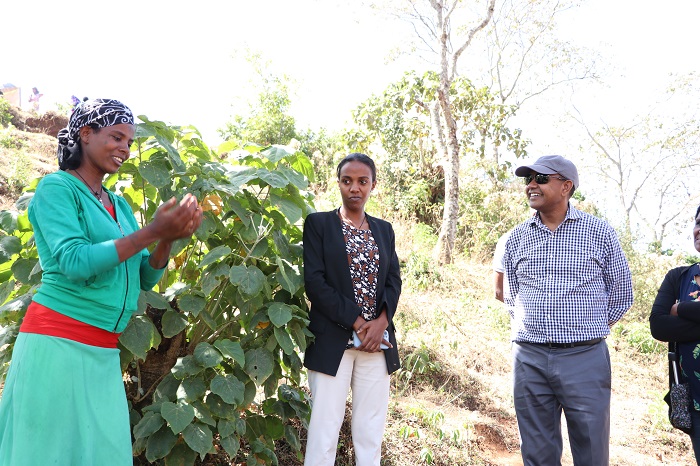 Pictured (l-r), Ms Tigist Tesfahun, chairwoman of the youth enterprise cheerfully explains their future bright to Ms. Meklit Asseffa (MOYESH, Amhara region manager) and Mr. Samuel Yalew Adela, Ethiopia-Country Head.
In collaboration with the Mastercard Foundation, icipe has achieved its target of creating direct jobs for 100,000 (60% women) Ethiopian youth in beekeeping and sericulture development. Through the More Young Entrepreneurs in Silk and Honey (MOYESH) Programme, icipe provided inputs, a series of training (technical and entrepreneurial, business management and financial literacy), established number of apiary sites, constructed silkworm rearing sheds, established organized youth enterprises, integrated business hubs, facilitated market linkages in three regions (Amhara, Oromia and SNNP) regions of Ethiopia. In addition, an additional 25,066 direct jobs were created through partner organisations providing inputs and service delivery.
Notes for Editors
The More Young Entrepreneurs in Silk and Honey (MOYESH) project, a partnership between the International Centre of Insect Physiology and Ecology (www.icipe.org), the Mastercard Foundation's Young Africa Works in Ethiopia initiative, and several Ethiopian public and private sector partners is a five-year programme (2019 –  2024) being implemented in the Amhara, Oromia and Southern Nations, Nationalities Peoples' (SNNP) regions of Ethiopia.  It is aligned with ongoing efforts to alleviate youth unemployment or underemployment in Ethiopia, aiming to create dignified and fulfilling jobs and income opportunities for 100,000 unemployed youth (60 percent of them women) through the honey and silk value chains. Additionally, the MOYESH project will also benefit 14.6 million people along the honey and silk value chains. Currently, the project has achieved 70 percent of its total youth target.
Mastercard Foundation seeks a world where everyone has the opportunity to learn and prosper. Through its Young Africa Works strategy and Canadian EleV program, the Foundation works with partners to ensure that millions of young people, especially young women, access quality education, financial services, and dignified work. Mastercard Foundation was established in 2006 through the generosity of Mastercard when it became a public company. The Foundation is independent with its own Board of Directors and CEO. For more information and to sign up for the Foundation's newsletter, please visit http://www.mastercardfdn.org/ Follow the Foundation on Twitter at @MastercardFdn
The International Centre of Insect Physiology and Ecology (www.icipe.org): headquartered in Nairobi, Kenya, is the only research institution in Africa working primarily on insects and other arthropods. The Centre conducts world-class science and then translates this knowledge into innovative environmentally friendly, affordable, accessible and easy-to-use solutions to tackle crop pests and disease vectors. icipe's role also extends to the conservation and sustainable exploitation of beneficial insect biodiversity. Thus, icipe works through the 4Hs Themes – Human Health, Animal Health, Plant Health and Environmental Health – a holistic and integrated framework that has sustainable development as its basis, to improve food security, health and the overall well-being of communities in Africa. We gratefully acknowledge the support of icipe core donors: Swedish International Development Cooperation Agency (Sida); Swiss Agency for Development and Cooperation (SDC); Australian Centre for International Agricultural Research (ACIAR);  Federal Democratic Republic of Ethiopia and the Government of the Republic of Kenya. The views expressed herein do not necessarily reflect the official opinion of the donors.