Sericulture attracts young people and markets in Ethiopia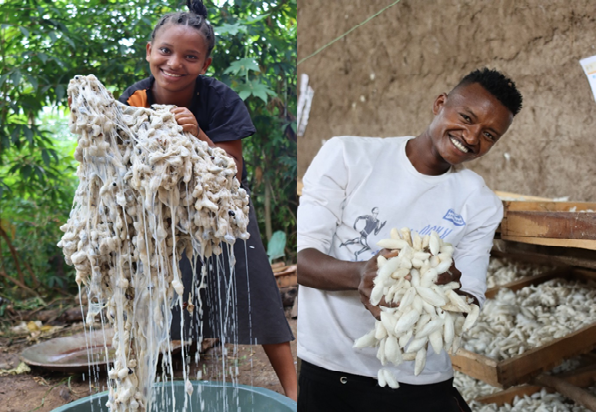 Picture: Camero Ketema (right) displays an excellent Eri-cocoon in the rearing room, while Nazret Murte (left) shows a cocoon that has been properly prepared, boiled, washed, and cleaned cocoon, which is ready to dry before converting to yarn. The images were captured at the MOYESH sericulture demonstration site in Kola Barana Kebele, Mirab Abaya district, Southern Region
Sericulture is very beneficial to young people, particularly women, in terms of providing a variety of employment options and viable income without affecting their regular agricultural activities or the existing sociocultural equilibrium. Through the More Young Entrepreneurs in Silk and Honey (MOYESH) Programme, we made good use of this potential and created decent jobs for over 5,000 young men and women. We have also provided young people with technical assistance, capacity-building, and input support to start their businesses. As documented in the narratives from Mirab Abaya and Arba Minch Zuria Woredas, the young business owners who run it today have become outstanding entrepreneurs and have a clear vision and objectives. In brief, the potential growth routes of youth have been significantly impacted by the MOYESH Programme's accomplishments. Members of the Birhan Silkworm Farming Enterprise, for instance, generated roughly ETB 970,110 from the silk products.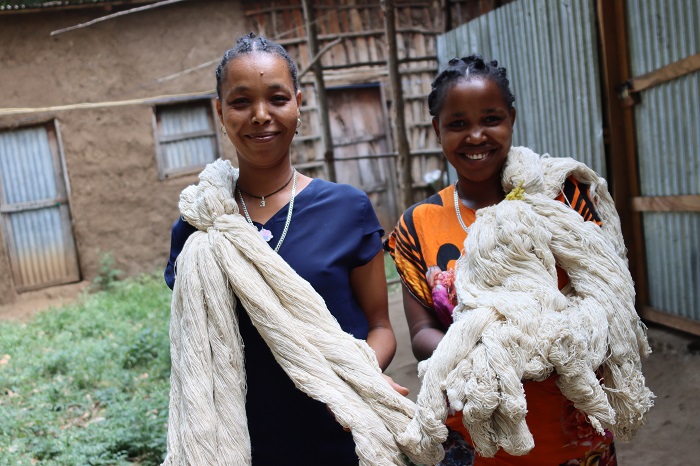 Picture: Awetash Zeleke, 27 years old (left in the picture) from Fikir Enterprise in Ugayehu village displays the unique fabrics produced by young women from Eri-silkworm in Ugayehu village in Mirab Abaya district of the Southern region to attract textile businesses producers targeting lucrative domestic and export markets.
Awetash (Left) says that the situation has changed from a few years ago. Rearing silkworms is now a life-changing business and a source of major income for them. They also want to transform it into a family business by integrating it with other complementary farming activities. This is because children, teenagers, and family members are all very helpful in this community and realize that raising silkworms is a profitable business. The results are rooted in basic economic principles such as social and capital values.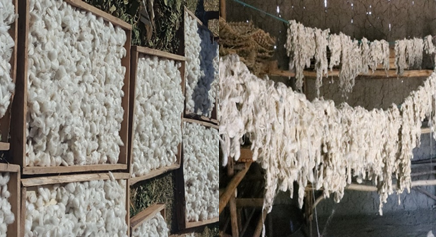 Picture: Edget silkworm farming enterprises in Shelle Mella village make high-quality dried cocoons that are ready for cooking (left) and weaving (right)
"Silkworm farming is a simple endeavour that offers both young men and women significant prospects. It is a year-round business in which the producers are engaged and tend to conduct rearing operations day and night throughout the year. It is also ideal for integrating it into small landholdings and providing family members who are unable to work on farms with employment options. In addition, multipurpose food crops including cassava, pepper, maize, and fruits can be used as additional feed sources, particularly during times of seasonal feed scarcity.", Shifa Ballo (PhD), MOYESH Programme Sericulture Manager.
"The ability to incorporate several actors along the value chain is another significant benefit of sericulture. This is because the business offers a variety of worthwhile employment options and productive economic activities. These include primary production at the smallholder and commercial farm level, value addition and processing in small to medium enterprises, and trading in lucrative niche export markets. We tracked the community impact and found that the business encourages community participation and provides opportunities for growth. Its cash flow patterns are also very conducive to rural prosperity. It also reduces the number of people moving from rural to urban regions", said Henok Mechal, MOYESH Programme SNNP Manager.
Sericulture is an agri-business that can easily be incorporated with other farming activities and contribute to the rehabilitation of damaged landscapes in addition to its direct contributions to household income. The silkworm wastes and other by-products speed up the recycling of nutrients in the soil, attracting growers to various integrated agribusinesses and increasing their profits to the maximum. In addition to growing pepper, chillies, teff, maize, and castor as intercrops, they also partake in other activities that add value, such as beekeeping and processing cassava. Birhan is one of the youth groups that participate in the silkworm farming activity in Kolabarena Kebele of Mirab Abaya Woreda and is successful in reaping the many advantages of the business. They earned roughly ETB 85,000 in the first year, and they also started producing silk yarn.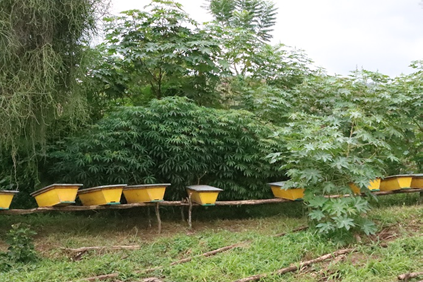 Picture: Edget and Dicha youth enterprises in Kolabarena village of Mirab Abaya district of the Southern region established beekeeping integrated with sericulture and have over 100 hives with bee colonies. They produce honey.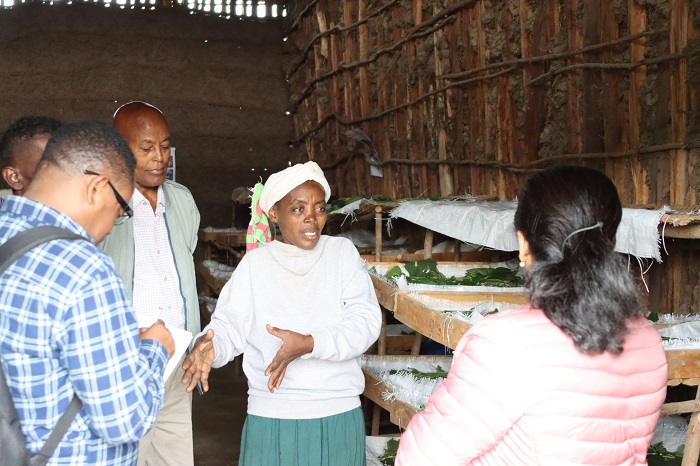 Picture: Desalech Sewunet of Shelle Mella Village, in Mirab Abaya district, explaining the strong and growing local market for sericulture products but is largely dominated by a small number of aggregators.
Desalech of Shelle Mella village (Picture 5) says "…our production and income grew sharply, but we did not meet our ambitions yet. We require more domestic and international markets for our goods in order to boost the quantity and quality of the items. Currently, we are supplying cocoons and yarn to Bere Sericulture Production PLC and Loza Trading. The collectors, not the growers, set the price for the items under a constrained market alternative, which does not encourage production at scale." The youths' dedication and the skills they acquired in fact offer important insights into the future directions of the business. Sisay Yafet is a member of the Dicha silkworm farming enterprise in the Mirab Abaya district. He said, "I relocated frequently to various parts of the nation in search of employment and encountered several challenging circumstances. However, I used to indulge in certain reckless activities that put my life in jeopardy. All those trials, except for silkworm farming, did not bode well for my future. I am extremely proud of the work we are doing here and the support we are giving to other youth organizations in our communities since I joined the MOYESH Programme. We are very confident in our bright future in this expanding business. High-level government officials and the district administration are inspired by our achievement and have given other young people land to emulate the practice. With our technical know-how and greatest experience, we are assisting the newly organized youngsters". More youths and enterprises will join us in this business in the coming years.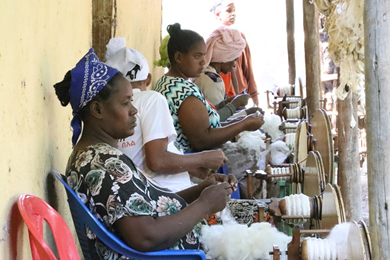 Picture: Many young women are engaged in Eri silk weaving activities at the sericulture village in Ugayehu village of Mirab Abaya district, Southern region.
In conclusion, this period marks a rapid spurt of sericulture development in Ethiopia. Our monitoring team mapped the growth of the enterprises on evidence across all the villages, especially in Ugayehu, Mirab Abaya district, which is the pioneer in developing a sericulture village. This quick and rewarding improvement was not only created by the provision of proven technologies and inputs but also by establishing solid public-private partnerships, adaptive programme management, and multiple youth engagement avenues.
The experience of Birhan, Dicha, Edget, Firkir, Wacho, and many youth silkworm farming enterprises (https://twitter.com/icipe/status/1693530936174846405) illustrates the effectiveness of the MOYESH Programme in demonstrating how young people can realise dignified and fulfilling jobs, maintaining their environmental health, ensuring food and nutrition security, and reducing poverty and migration.
The More Young Entrepreneurs in Silk and Honey (MOYESH) programme, a partnership between the International Centre of Insect Physiology and Ecology (www.icipe.org), the Mastercard Foundation's Young Africa Works in Ethiopia initiative, and several Ethiopian public and private sector partners, is a five-year programme (2019 – 2024) being implemented in the Amhara, Oromia and Southern Nations, Nationalities Peoples' (SNNP) Regions of Ethiopia. It is aligned with ongoing efforts to alleviate youth unemployment or underemployment in Ethiopia, aiming to create dignified and fulfilling jobs and income opportunities for 100,000 unemployed youth (60 percent of them women) through the honey and silk value chains. Additionally, the MOYESH programme will also benefit 14.6 million people along the honey and silk value chains.
Mastercard Foundation seeks a world where everyone has the opportunity to learn and prosper. Through its Young Africa Works strategy and Canadian EleV program, the Foundation works with partners to ensure that millions of young people, especially young women, access quality education, financial services, and dignified work. Mastercard Foundation was established in 2006 through the generosity of Mastercard when it became a public company. The Foundation is independent with its own Board of Directors and CEO. For more information and to sign up for the Foundation's newsletter, please visit http://www.mastercardfdn.org/ Follow the Foundation on Twitter at @MastercardFdn The International Centre of Insect Physiology and Ecology (www.icipe.org): headquartered in Nairobi, Kenya, is the only research institution in Africa working primarily on insects and other arthropods. The Centre conducts world-class science and then translates this knowledge into innovative environmentally friendly, affordable, accessible, and easy-to-use solutions to tackle crop pests and disease vectors. icipe's role also extends to the conservation and sustainable exploitation of the beneficial insect biodiversity. Thus, icipe works through the 4Hs Themes – Human Health, Animal Health, Plant Health, and Environmental Health – a holistic and integrated framework that has sustainable development as its basis, to improve food security, health, and the overall well-being of communities in Africa. We gratefully acknowledge the support of icipe core donors: Swedish International Development Cooperation Agency (Sida); Swiss Agency for Development and Cooperation (SDC); Australian Centre for International Agricultural Research (ACIAR); Federal Democratic Republic of Ethiopia and the Government of the Republic of Kenya. The views expressed herein do not necessarily reflect the official opinion of the donors.